In September 2022, the EJP Events team found ourselves in Boise, Idaho again, this time to take part in Connect Northwest. This was our second time in Boise for business, we were also there in September 2021. We wrote a blog post about Boise event venues back then, and it still has a lot of good information. Thinking about event locations in Boise, Idaho? Here are some more event venues we discovered!
"JUMP" stands for "Jack's Urban Meeting Place", Jack being J. R. (Jack) Simplot, the founder of Idaho based potato processor Simplot Industries. Originally envisioned as a museum for his tractor collection after he passed away in 2008, JUMP evolved to a hybrid indoor/outdoor event space based around a park with: "an outdoor amphitheater, sweeping terraces, rooftop parks, meeting areas, play areas, and all with unique views of the city and the surrounding mountains." (Oh yeah, there's still vintage tractors!) JUMP will rent space for events that "create an environment for inspiring human potential". This means it's a perfect spot for non-profit conferences or meetings. A variety of indoor (their Pioneer Room is 3,790 sq. ft.) and outdoor (like their Loft deck) spaces can be rented. Oh yeah, they also have a giant five-foot slide! (Emee really wants to try it.)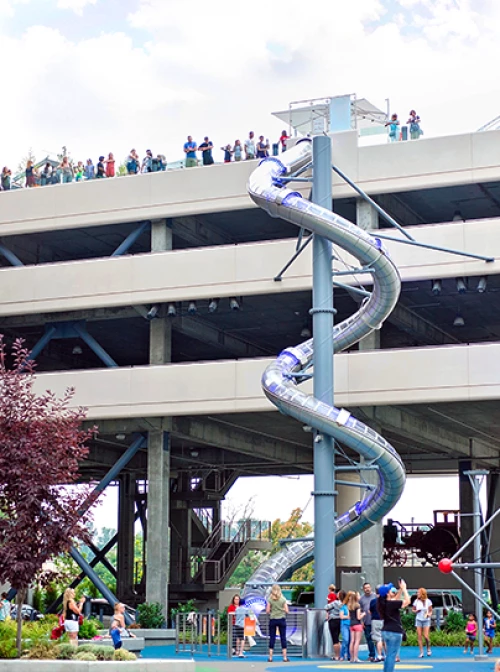 Most people do all that they can to stay out of jail. But what if it's a fortress-like edifice that hasn't been an active prison in years? The Old Idaho State Penitentiary was an active reformatory for a century, but it has not seen prisoners in almost fifty years. Instead, the grounds are now a museum and can be rented for events large and small. Interior spaces can hold 50-225, while the Main Yard and Grounds can comfortably accommodate up to 1,000 people! A wedding inside a jail will not be forgotten, that's for sure.
Housed in the former American Laundry Building built in 1910, the Linen Building is owned and operated by The Idaho Coalition Against Sexual & Domestic Violence (IDVSA). They moved into the Linen Building "with a vision to transform the commercial steam laundry building with a history of harmful, toxic working conditions for girls and women to a space that stands for what is possible when everyone is valued, safe, and can thrive." The IDVSA has offered the Linen Building's space at a discounted rate or free for organizations focused on social justice and/or uplifting marginalized communities, and any space rental helps a non-profit organization. The space rental includes the Main Room and Mezzanine (3,900 total sq. ft.), which can hold 328 standing or 190 seated.
Check out our original Boise post for information on places to stay and how to get around.
We hope that this gives you some good ideas on event locations in Boise, Idaho!